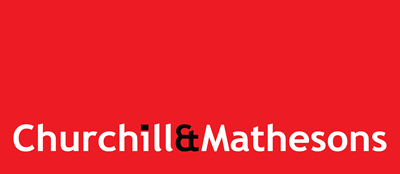 PRIVACY POLICY
Churchill & Matheson is committed to ensuring that your privacy is protected at all times.
Our privacy policy covers the collection, use, and disclosure of your personal information that may be collected by us through the following means:
Website
Calling our office
Contacting our services
By using our website, you agree that information about how you navigate through and search the data presented on the website can be collected by Churchill & Matheson's Estate Agents for the purpose of developing and improving the website for all future visitors.
Churchill & Matheson's wants to ensure that your privacy is protected, therefore we adhere to the following policy
Our responsibility
For the purposes of the applicable Data Protection Legislation, Churchill & Mathesons will be the data controller of all the data we process. As we are the data controllers, we will be responsible for ensuring that our systems, processes, suppliers, and people will comply with the Data Protection Legislation in relation to all the personal data we handle.
Churchill & Matheson's takes personal data breaches extremely seriously, and we are required to notify the Information Commissioners Office (ICO) in the event that a breach occurs.
When we use, collect and disclose any personal data, we will always follow the data protection principles underlying the Data Protection Legislation.
Please email us at admin@churchillmathesons.com for further information on the above policies, procedures, and records.
What personal information we collect
We strive to provide you with the best possible service, and in order to do so, we sometimes need to collect some information (including sensitive personal information) about you. We may collect and process the following data:
The information you give us. You may give us information about yourself by coming into our office or by corresponding with us by phone, email, or by other means. The information you give Churchill & Mathesons may include name, phone number, email address, and address.
Information we collect about you. We collect information from the website in order to identify you every time you visit our website, provide you with the services requested, from time to time we may contact you with information we believe will be of interest or of benefit to you such as new or existing services.
Information we receive from other sources. Churchill & Mathesons may receive information about you if you use any other websites which are operated by us or any other services we provide. We also work closely with third parties, such as Rightmove, Zoopla, On the market, and any other property portals.
How we use your information
When you give us your personal information, we will do the following with the information:
To contact you
To provide you with information about goods and services that we offer
To provide customer support
To keep our website safe and secure and to prevent or detect fraud
To verify your identity
To notify you about any changes to our services
To make sure that the content on our website is presented in the most effective and efficient manner for you and your computer
To assist us in improving or optimising our advertising, marketing material, our services, and our website
To comply with requirements imposed by law or any court order


Security
The securement of personal information is a key element of data protection. Churchill & Matheson's will always take appropriate measures to ensure that our systems, processes, suppliers, and people will secure all personal data and will protect it from loss or unauthorised disclosure and/or damage. Please email us at admin@churchillmathesons, com if you require further information regarding our policy and our approach to information security.


Computer Security
We recommend that you keep yourself safe from malware and viruses by using adequate and up-to-date security on your computer. You can easily download free basic protection from certain providers, but it would be best to choose security software as it offers a more comprehensive cover. To make sure you are secure, please keep your security software on and make sure your computer is running on the latest updates.
You should be careful when opening emails, as they might contain links to download files and open attachments, which you don't want, haven't asked for, or aren't expecting all these can contain viruses. We encourage you to back up all your files so that if your computer is unfortunately infected by a virus, you will still have your files saved.
Cookies and Internet advertising
Visiting our website with your browser settings adjusted to accept cookies tells us that you wish to make use of our website information and website features and that you, therefore, consent to our use of cookies and other digital technologies to provide them to you as described in this notice and in our Privacy Policy. See below for information on how to modify the settings in your browser to notify you when you receive a new cookie and disable cookies altogether.
Cookies we use


| | | |
| --- | --- | --- |
| Cookie: | Expiry: | Purpose: |
| SESSION | Browser session only | Is an ID to maintain a reference for the user's connection to our servers so we can maintain a state for the user and provide them with a seamless user experience between page refreshes and reload information they have previously requested. |
How we use them


A cookie, also known as an HTTP cookie, web cookie, or browser cookie, is a piece of data stored by a website such as ours here within your browser, and then subsequently sent back to the same website by your browser in order that our systems are able to recognise your browser and to provide services, such as remembering your name or what you have selected as your favourite items, for the next time you visit the website.
We use cookies for the following purposes, not limited to but including the following:
Identifying you when you sign-in to our site. This allows us to provide you with recommendations, display personalised content, recognise you as a user, and enable you to add properties using bookmarking technology, such as adding to a "My Favourites" feature, among other customised features and services we provide.
Keeping track of your specified preferences. This allows us to honour your likes and dislikes, such as whether or not you would like properties that match your criteria. You may generally exercise your preferences through Your Account.
Remembering your registration details such as your address so you do not have to type it in again, the next time you use a form of ours.
Cookies and browser settings
The Help menu located on the menu bar of most internet browsers will inform you how to restrict your browser from accepting new cookies from websites, how to set the browser to notify you when you receive a new cookie and how to disable cookies altogether. In addition, you may disable or delete related data used by browser add-ons, such as Flash cookies, by changing the add-on's settings or visiting the website of its manufacturer for further help.
Website personalisation
Our website displays information you make available to us when you interact with our sites, content, or services. Products and services are displayed to you based on information from activities such as using any search, bookmarking, or adding to the favourites facility on our websites, interacting with order forms or terms and conditions.
Like other online ad networks, we use cookies, web beacons (also known as action tags or single-pixel gifs), and other technologies (collectively, "cookies"). Cookies enable us to learn about what banner ads or hyperlink items you see, what banner ads or hyperlink items you click, and other actions you take on our website. This allows us to provide you with more useful and relevant info text or graphics relating to the reason you are using our website. For example, if we know what information you prefer to see we can be careful not to show you irrelevant information.
We do not provide any personal information to advertisers or to third-party sites that display our interest-based banner ads. However, advertisers and other third parties (including the ad networks, ad-serving companies, and other service providers they may use) may assume that users who interact with or click on a personalised ad or content are part of the group that the ad or content is directed towards (for example, users in South West London who browsed for properties in South West London). Also, some third parties may provide us information about you (such as demographic information from Facebook or other social media networks that we register you through upon your request to do so).
We do not have access to or control over cookies or other features that advertisers and third-party sites may use, and the information practices of these advertisers and third-party websites are not covered by our Privacy Policy or this webpage. Please contact them directly for more information about their privacy practices.
When we disclose your information
We may share your information with selected third parties including but not limited to the following:
Business partners
Sub-contractors
Suppliers
Referencing companies
We may disclose your information to third parties if we are under a duty to disclose or share your personal data in order to comply with any legal obligation, or in order to enforce or apply our terms of use and other agreements or to protect the rights, property or safety of Churchill & Mathesons, our clients or others. This will include exchanging information with other companies and organisations for the purposes of fraud protection and credit risk reduction.
Our website, at times, may contain links to and from the website of our partner networks, advertisers, and affiliates. If you follow a link to any of their websites, you should be aware that they will have their own privacy policies and we do not accept any responsibility or liability for these policies. Please make sure you check their privacy policies before submitting any of your information to these websites.
How we protect your information
Churchill & Mathesons is registered under the Data Protection Act and we take extreme care to ensure that all personal details are kept secure. You can be assured that any personal information that we obtain for you will not be shared with any third party or organisation outside the Churchill & Matheson's group of companies, divisions, and approved business partners. When you submit your information to us, you consent to its use, as set out in this policy. If our privacy policy changes, these changes will be made on this page and dated.
If you wish to amend or remove your personal data from our records please email admin@churchillmathesons.com or you can write to us at:
Churchill & Mathesons Estate Agents
207-209 Old Oak Road
London
W3 7HH


Your Rights
All personal data will be processed in line with an individual's rights, but you have the right to ask us not to process your personal information for marketing purposes. Your rights include the following:
To request a copy of your personal data
To request that if your data is inaccurate personal details are corrected
To request that your personal data is deleted and destroyed
To opt-out of receiving every kind of electronic communications from us
If you wish to make a request which falls in line with your rights or you have a query then please contact me by email at admin@churchillmathesons.com
Access to your information
You have the right to know about the following information:
The purposes as to why we are processing your information
What type of personal information we hold about you
The period for which we will store your information
You also have the following rights:
You can request a copy of the information we hold about you
The restriction of the way in which we process your information or to object us from processing it
To erase your personal information provided that it is no longer necessary for the purpose for which it was collected or there is no legal basis for Churchill & Mathesons processing it
You can exercise any of these rights by writing to us at:
Churchill & Mathesons Estate Agents
207-209 Old Oak Road
London
W3 7HH
Alternatively, you can send us an email to admin@churchillmathesons.com
.
We may charge a reasonable fee to cover our administration costs.


Changes to our Privacy Policy

We might make changes to our privacy policy in the future, and therefore, any changes will be posted on this page. Please make sure that you check back frequently to see if there have been any updates or changes to our privacy policy.
Contact

We will always welcome your views about our website and our Privacy Policy. If you would like to contact us with any questions or comments please send us an email to
admin@churchillmathesons.com
.